For the month of July,  my top five commenters will receive a copy of Lone Survivor by Marcus Luttrell, the story of  Operation Redwing, the extraordinary firefight that led to one of the largest loss of life in American Navy SEAL history.  The Number One commenter will receive an AUTOGRAPHED copy!
**************************************************************************************************************************************
236 years ago, a group of 56 men came together and changed the history of the world.   Each year at this time, I am reminded of the courage it took for our Founding Fathers to boldly sign a Declaration of Independence from tyranny.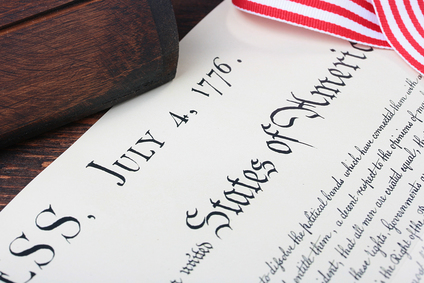 The Declaration ended with this pledge:
"And for the support of this Declaration, with a firm reliance on the protection of divine Providence, we mutually pledge to each other our Lives, our Fortunes and our sacred Honor."
There are still courageous American heroes who will pledge their lives, their fortunes and their honor.   If you haven't already done so, watch the movie, Act of Valor:
I watched it just before flying to a fundraiser in San Diego to lend my support to the non-profit organization, the Boot Campaign (www.BootCampaign.com). This event was an incredible experience for me,  hosted by a friend who is a Navy SEAL, and largely attended by Navy SEAL's, some of whom were in the movie.
 It took an Act of Valor for those 56 men to sign the Declaration of Independence, and there was a cost to each of them. It remains an Act of Valor when men and women of our country  enlist for military service and sign their names on a blank check made payable to the United States of America, not knowing the exact cost which will  to be paid.
Some will pay with their marriages and families.  Some will pay with their physical or emotional health.  And some will pay with their lives.
There is a price for liberty.  There always has been.  There always will be.  May we remember that today and thank someone who has paid the price.
Who can you thank today who is paying the price  or has paid the price?