Are you a "Success Superstar"?  Success can be defined in many ways.  One definition is "…the achievement of one's goals."  Your goals might include losing weight, becoming debt-free, buying a home or writing a book.  Here are some ideas on how to set and achieve your goals, no matter what they are.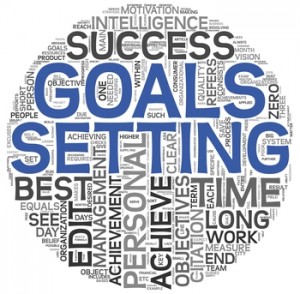 To achieve your goals, you need discipline.  And one of the most important disciplines of goal achievement is that of regular monitoring of your progress which forces you to see the truth and the consequences of your daily choices.
You may have taken the time and energy to write your goals along with a plan for achievement of those goals.   However, without implementation of the plan, it will be for nothing. It is the discipline of monitoring the plan that will make the difference in both your work and in your life.
Goals can be defined as the ongoing pursuit of a dream or "dreams with a deadline." You have heard of the S.M.A.R.T. method of establishing goals which means your goals should be Specific, Measurable, Attainable, Realistic, and Timely. But an important part of setting goals is discovering the answers to following questions:
Why is reaching this goal important to me?
What are the benefits of reaching this goal?
What are the skills or knowledge required to reach this goal?
What specific plan of action will it take to reach this goal?
What is the deadline or date of completion?
The goals you set should be yours and should be linked to your mission and purpose—your "why". Your strategy will be the action plans you implement to accomplish these goals on a day-to-day basis that will take your life to the level of success you have envisioned.
Each week, preferably on the same day, set aside a time to reflect and review your vision and your plan for accomplishment of these goals.  This forces you to answer honestly the question, "What did I accomplish last week?" And then the other question, "What will I accomplish this coming week?" If you do not have it plugged into your weekly calendar, it just will not happen. It is during these times of reflection that you can "check up and check off" what you have accomplished and what still needs to be done to achieve your goals.
I love leather journals in which to write my goals and dreams and plans. A separate page is created for each goal that I intend to accomplish for the year. After the goal is written, I identify why this goal is important to me. I write a vision statement of what my life would look like if this goal was achieved. And then I leave several pages blank behind this goal. By doing this, I have plenty of space to write out in detail the answer to the question "So, how am I doing?" I record my successes, the goals I have accomplished, areas that need improvements and areas that were not touched.
This journal records my progress, not only with my business, but with my life. For example, I have set a goal for this year to read 100 books.  I keep a list of the books I have read and each week as I record my progress, I can determine if I am on track to accomplish that goal.
Are you on track to be a Success Superstar this year?  Set those goals, monitor the progress and you will be!