Over the last several months, I have walked and/or  ran dozens of miles over the lonely, rural roads of Central Louisiana, wearing combat boots, and training for my first half-marathon.  There was not one time when I put on my boots to begin a run/walk  that I did not think of the men and women who serve or have served our country, wearing the same boots.   The difference was that they were doing it away from friends, family and safety.  They were walking in the heat of the desert and doing for the love of country and a heart to serve,  risking their lives for the freedoms I too often take for granted.
It started in the summer of 2013, one year ago,  when several women from the company I work for, Fairway Independent Mortgage Corporation, made the decision to participate in the June 2014 Seattle Rock 'n Roll 1/2 Marathon.  We would be the "Fairway Women Who Rock" and it seemed like a very cool thing to do.    What we all  later realized was that the decision to participate was the  easy part.   Running that 13.1 mile  race would also require discipline and determination.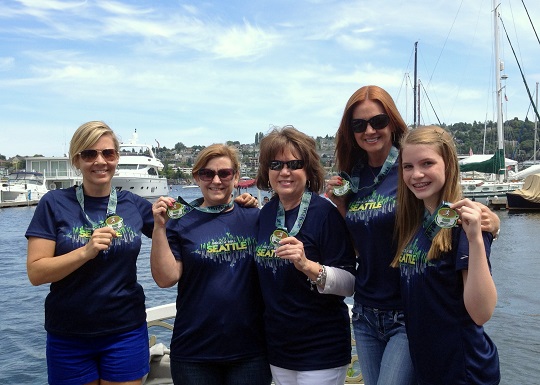 Because the race was one year  in the future, for several months my mindset was:   "I will begin training…..tomorrow. Or maybe next week!"  As the timeline fell to within six months of the event, I knew if I was going follow through on my decision, I would  have to get serious and develop the disciplines to train for this event, even with my heavy travel schedule .  Once I actually started the training, my thoughts were "This is HARD!"  Developing a determined heart would be crucial if I were going to participate in my first ever 1/2 marathon at the age of 61.
A partial definition of determination is "….the act of coming to a decision or of fixing or settling a purpose…." .  For me, it was the battle between my mind and body.  My mind was saying "You can do this!!" While my body saying "Are you crazy?!  There's no way!!".  I really had not committed to the decision to participate in the race.  What I needed was PURPOSE.
That's when I made the decision that would actually make the participation a little more difficult physically, but make it much easier mentally:  I would not merely participate in the race – I walk/run with my combat boots to honor our military,  and in the process raise money for my favorite charity, the Boot Campaign. This  purpose then became the driving force which helped me to win the battle of mind v. body.   Once that purpose was set – there was no turning back.
Success in business and in life is much like this.  We can make hasty decisions and set huge goals but it  takes much more than a one-time decision to achieve success whether those goals include  growing our business, losing weight or saving money.   Running the race in business or in life requires implementing the necessary disciplines and a determined, purposed heart to carry you through to the finish line.
This quote from Sir Thomas Fowell Buxton seems to say it all:  "The longer I live, the more I am certain that the great difference between the great and the insignificant, is energy — invincible determination — a purpose once fixed, and then death or victory."