On this day in history, July 30 1942, seventy years ago, President Franklin D. Roosevelt signed the act establishing the WAVES – Women Accepted for Volunteer Emergency Services.
I love the poster above.  This woman is a control tower operator. Operators received their special training at Naval Air Station, Atlanta, Georgia. The preferred candidate was twenty to thirty years old, had 20/20 vision, normal visual, auditory, and speaking capabilities, short reaction times and the ability to perform in stressful situations, scoring well in mathematics and good teaching skills.
In 1942, the Bureau of Aeronautics restricted operator positions to WAVES after recognizing that women performed as well or better than males. The integration of women into Navy aviation was largely made possible by Lt. Joy Bright Hancock, who worked tirelessly as the WAVES representative in the Bureau of Aeronautics.
During World War II, over 80,000 officer and enlisted women served in the WAVES. In July 1948, the first six enlisted women were sworn in the regular Navy and were followed by first eight officers that October.
(Poster John Falter 1945 70-623-R)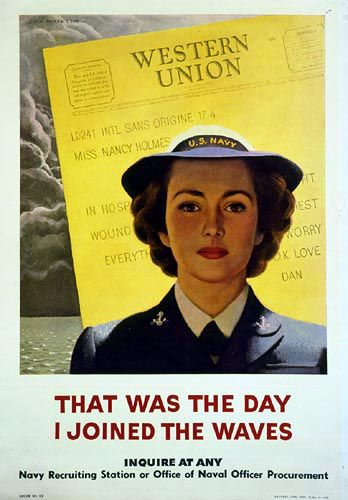 Below are WAVES standing in formation by the Washington Monument, Washington, D.C., circa 1944.
(NHHC Photograph Collection, "All Hands Collection," September 1944.)
The WAVES were disestablished in 1972 in order to integrate women into the main functions of the Navy.  Take a moment and thank a woman who has served in the military.
Do you know someone personally who was a WAVE?  If so, has she ever talked about her experiences?
(For more history, check out www.NavalHistory.org)