For the month of July, the top five commenters will receive a copy of Lone Survivor by Marcus Luttrell, the story of  Operation Redwing, the extraordinary firefight that led to one of the largest loss of life in American Navy SEAL history.  The Number One commenter will receive an AUTOGRAPHED copy!  The following is a repost from my archives of Friday's with the Farmer's Wife.  Enjoy!

**************************************************************************************************************************************

I have been married to a farmer for almost three decades.  Together we have 5 daughters, 16 grandchildren, 3 sons-in-law, and a host of cows, horses, chickens, and a stray cat or two. I wear many hats – writer, speaker, mortgage banker, mother, grandmother, friend, entrepreneur, Bible teacher, child of God, and yes, farmer's wife.
While riding over one of our pastures, the Farmer and I happened upon a huge patch of blackberry bushes.  We jumped off the Ranger and began to gather a sweet afternoon snack of  plump and delicious blackberries.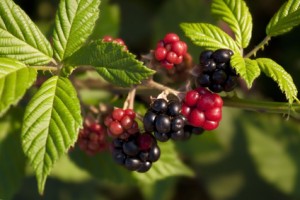 The vines were laden with hundreds of red berries, but a few had begun to ripen.  I looked at the tangled berry vines, my mind begin to envision what these bushes would look like in a few days, the berries going from red to black.  I was thinking of blackberry cobbler, jam, and even blackberry pepper jelly.  (Yes, I do love to cook!)
As I began to dream out loud, the Farmer casually remarked, "….then best do it quickly, because these vines will be gone very soon…."  I protested loudly, "WHY?"
And then he said something profound.  Wisdom for every area of our life:  family, faith, finances, fitness, or our field of expertise:
"This ground is meant for taking care of my cattle – not to grow berries."   Because he had been preoccupied in other areas of his farming operation, this section of land had been neglected and the vines had "taken over".  If managed properly, this area of ground, although a small section, would have been profitable pasture for feeding of his cows.  Instead it just provided a sweet afternoon snack.
The berries were sweet on that hot afternoon – but after his comments,  I thought bittersweet.  One of the definitions of "bittersweet" is "……pleasure mingled with pain or regret…."  How many times do we make a choice that seems sweet and pleasurable for a moment – but that choice results in taking our focus, our time and our energy away from our goals, our mission, our true vision of what we want our life to be and we suffer with regret?
We choose to sleep too late or too little, eat unwisely, become unbalanced with our work and our life, and our lives become like these blackberries bushes.  The true intent, design and purpose of our lives gets strangled and choked out.
So….the vines were mowed.  I didn't make blackberry jelly or jam or cobbler.  But that was a good choice.  He needed the ground for his cows.  And I was reminded that I needed to focus on the goals I want to accomplish before the end of July.
The Farmer is pretty wise.  I should probably listen to him more often.  Please don't tell him this because I will never hear the end of it!
Have you ever made a choice that seemed sweet at first, but resulted in regret?