Culling cattle is a regular part of my Farmer husband's cattle operation.  The definition of "cull" is in part  "……something picked out from others, especially something rejected because of inferior quality".  In order to maintain a healthy, high producing cow-calf operation, he routinely "culls" his herd to separate the choice cattle from those which have grown old, unproductive, unruly and wild.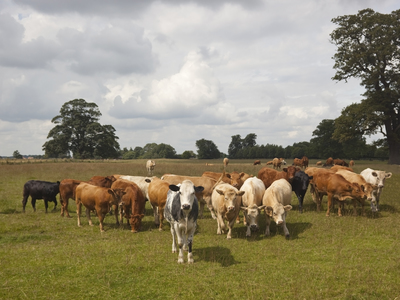 He has a method for separating his best cattle from those of inferior quality he calls the "Triple O" Method: 
Old, Open, and Ornery!
A referral based business is one of the best to have, in my opinion.  A successful referral based business is built with referral partners.
I thought Triple O method might be a great one to try in your business.  While the majority of your  referral partners are probably pleasant to work with, there is a small percentage who might be a drain on your emotions and your bank account.   How do you cull those from your life and business?  Here's how the Farmer does it:
Old – While the Farmer is culling cattle who are beyond their prime and no longer productive, I am NOT saying to get rid of referral partners who are advanced in age! But there are those who are hanging around a little too long with no productivity.
What about the referral partners who use you as an encyclopedia of information but never refer a client to you?  What about the referral partners who waste their time and want to waste yours?  Is that getting OLD?  It's time to cull!
Open – An "open" cow is one who failed to produce a calf.  Many times this is because of infertility or health issues.  Feeding a cow all year with no return on your investment is drain on the pocketbook.  But it can get worse than just the loss of one calf.  Allowing the open cows to remain in the same herd as the healthy ones is a risk.  Diseases can be spread.
Recently one of my loan officers could not preapprove a young lady who wanted to purchase a home because she did not have a down-payment or resources to get it.  When he failed to preapprove her, the real estate agent sent her to another bank, who gave a preapproval letter.  Three weeks later, the deal blew up.  Why?  No down-payment.   The agent was aggravated.  He had wasted 3 weeks.    He had failed to recognize and cull an "open" client.
Your time, energies, emotions and money can be spent with absolutely nothing gained in return.  Or your time and resources should be spent on clients who are prepared and financially fit to purchase a home.
Ornery -  The definition of ornery is "….unpleasant in nature or mood, disagreeable, mean spirited, and contrary in disposition." The Farmer doesn't want or need wild or unruly cows in the herd.  They are dangerous to him or his workers and not worth the trouble.
We have all had ornery referral partners. If you haven't, you will.  The one who is unpleasant, disagreeable and mean spirited.   Many times, we just grit our teeth and get through the transaction.  But there does come a point when a referral partner like this becomes such a drain on you and your emotions, it is time to separate from them – for your own well-being.  It's time to cull!
Do any of these conditions fit some of your referral partners?  Would you consider  the Triple O method of separating your choice referral partners from those who are OLD, OPEN or ORNERY?